Je hebt een netwerk met twee routers met beide toegang tot het internet. Je clients krijgen typisch maar één default route toegekend via DHCP, ze gebruiken dus maar één van de twee routers.
Vereiste voorkennis voor maximaal genot: basis netwerken.
Abstract
Bovenstaande situatie kan je op meerdere manieren oplossen maar met VRRP wordt er een virtueel IP adres gedeeld door de routers. Het virtuele IP adres wordt doorgegeven zoals een estafette stokje en wordt ook altijd beantwoord door dezelfde machine zolang de situatie niet veranderd. De routers houden elkaar in de gaten om te zien of het tijd is om actie te ondernemen en zichzelf te promoveren tot nieuwe eigenaar van het virtuele adres.

HSRP/VRRP/CARP: WTF?
HSRP komt uit de Cisco stallen in 1998; de deelnemers bespioneren elkaar via een multicast netwerk waarop ze zich in- en uitschrijven. Rond dezelfde tijd is de IETF werkgroep begonnen met VRRP welke gebruik maakt van RAND patenten. Een bizarre wending later claimt Cisco VRRP eigen en wordt er vanuit de BSD hoek CARP ontwikkeld om een patentloze oplossing te bieden. CARP maakt niet gebruik van een multicast oplossing en gebruikt TCP gesprekken om uit te vissen who is boss.
| | | | |
| --- | --- | --- | --- |
| | CARP | HSRPv0 | VRRPv2 |
| IPv6 support | Yes | No | In draft v3 |
| Message Authentication | SHA-1 HMAC | Clear-text password, MD5 HMAC (v2 only) | Clear-text password, MD5 HMAC |
| Patented | No | Yes | Patent claim |
bron: CARP The Free Fail-over Protocol, Sans Institute. De betekenis wanneer ik VRRP gebruik is dus een beetje afhankelijk van de context. Over het algemeen zal ik er VRRP en gelijkaardige technieken mee bedoelen zoals CARP en HSRP.
Meer
In RFC2338, RFC3768 en RFC5789 wordt VRRP voornamelijk omschreven als een fail-over mechanisme voor een default-gateway. Het jammere is dat dit teveel mensen niet laat realiseren dat je deze techniek ook kan gebruiken voor DNS servers of andere stateless IP services zoals NTP.
Zonder kosten?
Er zijn een paar kleine nadelen aan VRRP: het vereist dat de verleende dienst stateless is wat zelden het geval is. Zo zal een MySQL client het niet fijn vinden als hij ontdekt dat zijn sessie eruit ligt omdat hij plots pakketten stuurt naar een andere MySQL server. Een algemeen probleem is als een IP client die het internet bereikt met behulp van een VRRP gateway. Beide gateways gebruiken echter NAT en hebben ieder aparte NAT tabellen (overzicht van connecties tussen LAN en WAN). Als tijdens de IP sessie het virtuele adres van router wisselt bestaat de netwerk sessie niet in de NAT tabel van de andere router. Hierdoor moet de connectie opnieuw geïnitieerd worden. Voor de meeste services is dit echter geen probleem omdat deze automatisch opnieuw proberen na een kleine time-out of bijvoorbeeld de gebruiker in een HTTP client op refresh duwt. Tevens zijn er protocollen voor het synchroniseren van NAT tabellen
Voorbeelden
Het eerste voorbeeld maakt gebruik van Vyatta en realiseert een redundante default gateway. Vyatta maakt gebruik van keepalived welke VRRP versie 1 implementeert. Het tweede voorbeeld voorziet Windows clients van een betere DNS fail-over functionaliteit op Debian met behulp van ucarp (maw CARP
).
Vyatta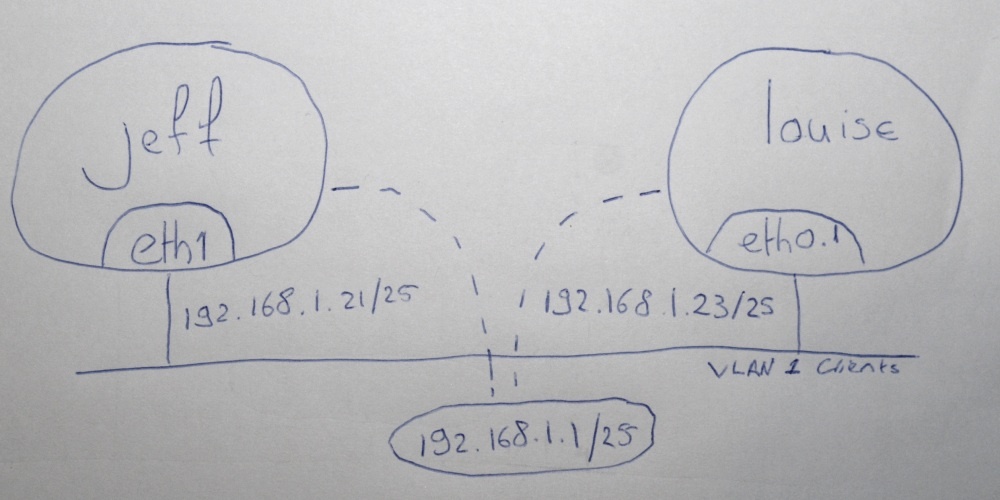 Ik heb besloten voor het code voorbeeld een deel van mijn actieve configuratie te gebruiken. Kort samengevat eth1 op jeff is verbonden met hetzelfde segment als eth0.1 op louise (Vyatta 6.5R1). Voor de geïnteresseerden, de lange uitleg: jeff is een gevirtualiseerde Vyatta 6.3 instantie op VMware ESXi (britta). Britta verbind vlan 1: het client lan segment met de virtuele netwerk interface: eth1 van Jeff. Louise bereikt dezelfde VLAN via virtuele interface eth0.1. Het kleine Vyatta versie verschil is waarom show vrrp (summary) lichtjes verschilt.
In eerste instantie gaan we de interface eth1 op jeff uitschakelen om te zien of louise de taken overneemt. Nadat dit lukt brengen we jeff terug online en zien we het effect van de pre-empt vlag. Indien deze niet ingesteld was of op false stond zou het gedeelde IP adres niet automatisch terug gaan maar pas als louise het zelfstandig opgeeft (of onbereikbaar wordt).
Let goed op de hostnames in het voorbeeld.
Debian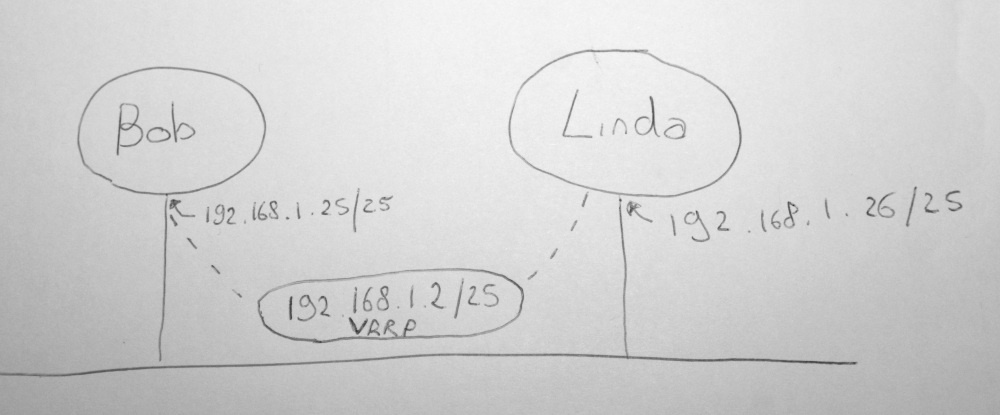 Het is toevallig dat ik ook sample code voor Debian heb, ik heb een paar weken geleden een redundante DNS server opgezet voor lokale domeinen (zie toekomstige blog entry). Community.lan draait op bob en linda (uit Bob's Burgers. Bob en linda verzorgen de DNS infrastructuur van mijn netwerk met bind (wiki[en]). Microsoft Windows clients schakelen te traag over tussen primaire en secondaire DNS server indien onbereikbaar. Daarom heb ik ervoor gekozen om ze één IP adres met VRRP te laten delen. Dit adres wordt via DHCP uitgedeeld aan de clients als zijnde de primaire DNS server (met bob en linda respectievelijk als secondair en tertiair). In eerste instantie installeren we de ucarp package uit de standaard Debian repositories. Debian being Debian heeft natuurlijk de configuratie geïntegreerd in /etc/network/interfaces. De exacte specificatie vinden we terug in /usr/share/doc/ucarp/README.Debian (pastebin). Wat de verschillende ucarp switches doen kan je in de man ucarp vinden..
In principe werkt alles nu, we kunnen testen door de interface tijdelijk uit te schakelen. Bijvoorbeeld met ifup en ifdown. In het voorbeeld is bob master en lezen we in de logfiles dat hij nu backup is. In de logfile van linda horen we de andere kant van het verhaal.
Conclusie
VRRP is handig, gemakkelijk en liev <3
Referentielijst